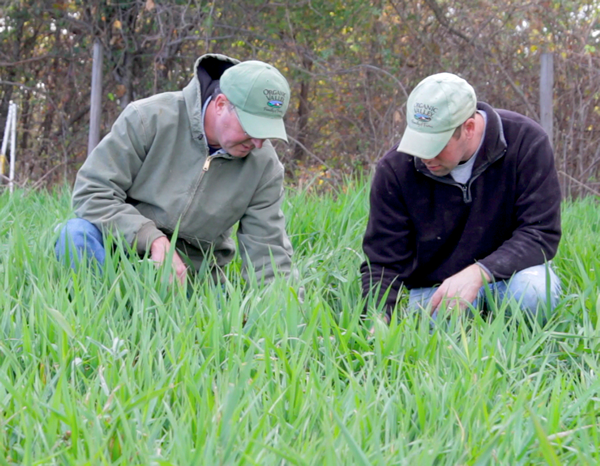 Altfrid Krusenbaum provides consulting services for grazing dairy and beef operations. He worked for several years as a NRCS (Natural Resources Conservation Service) certified Grazing Planner and can help you design your grazing system, troubleshoot problems you are experiencing and help you reach the goals you have for your grazing livestock.
Altfrid's specialties are organically managed dairy and beef systems. His goal is to help your grazing dairy or beef farm to become more sustainably profitable.
After milking cows for over 31 years and utilizing grazing for 23 years Altfrid has the experience necessary to help you with questions and problems as you are implementing grazing on your farm or looking for outside, independent advice.
His long-time interest in starting farmers, implementing a share-milking program on his farm and past work for the Dairy Grazing Apprenticeship Program makes him uniquely qualified to help dairy farmers who are just starting out.
Common problems or questions about grazing farms that Altfrid can address are related to fencing systems, productivity of pastures, cattle performance on pasture, matching the existing land base to the stocking rate, how much pasture to allocate to grazing livestock and how to improve profitability.
Fees
Basic consulting charge is $500 for a farm visit of up to 6 hours. All travel expenses are in addition to the consulting fee, see below
In office research, analysis and report preparation is $60/hr.
Telephone consultation is $1/minute with a $20 minimum
Travel expenses are $0.60/mile within 400 miles one-way from Eagle, WI. Beyond 400 mi, lowest airfare from Milwaukee plus 80mi roundtrip to and from airport. Travel time is $30/hr. Beyond 200 miles one-way from Eagle, WI there is a $180 overnight charge
"Our family decided to take on a new endeavor in life, and convert a conventional 140 acre farm to a certified organic grazing beef farm. We used Altfrid Krusenbaum as our consultant. Our farm, our animals and our pocketbook could not be happier. As beginning farmers, Altfrid's vast experience in farming, dairy grazing, and his no-nonsense business sense helped us with the steep learning curve. He also prevented expensive mistakes that beginners make. He gave us a step by step process of the important things to focus on in our grazing operations. 3 years into our farm beef grazing adventure, we still refer to the farm grazing assessment he created specifically for us and we are showing a profit! We never could have started our organic beef grazing operations as quickly and efficiently without his help. Plan your work, and work your plan, Altfrid gets your grazing program on the right track."
– Paul from Wisconsin
Learn more about grass-based Dairy and Livestock from the University of Wisconsin.
The USDA Dairy Forage Research Center has some valuable information on their Agricultural Research page.